The University of Oregon is committed to promoting a safe, respectful, and inclusive learning and working environment for students, faculty, and staff. Together, we share the responsibility to foster and maintain a culture of respect. In support of that commitment, workplace harassment & discrimination prevention training is mandatory for all university faculty and staff.
2019 Initiative for All Faculty and Staff
All faculty, officers of administration, classified employees, and graduate employees are required to complete this training by the end of the spring term. Temporary and student employees are encouraged to complete the training, but are not required to do so. Human Resources will be tracking and reporting completion rates to unit and department leadership.
Workplace Harassment & Discrimination Prevention Training
Human Resources provides a web-based workplace harassment and discrimination prevention training based on the university policies. This training helps you understand:
What constitutes appropriate workplace conduct;
How to recognize harassing behavior and discrimination;
How to handle harassment situations;
Where to go to report harassment and discrimination.
Those newly hired to the university are required to complete the training within 90 days of employment. All faculty and staff are required to complete the training every two years throughout their employment.
Web-based training is designed to provide consistent baseline information to large numbers of employees. Like all web-based training, it is most effective when coupled with other education, such as in-person trainings and facilitated discussions. Additional in-person trainings are available.
Commitment from Leadership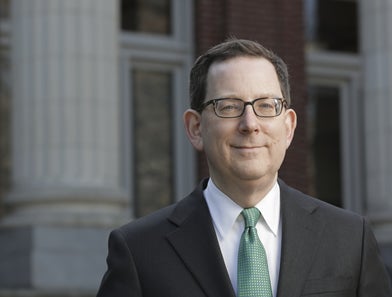 "University of Oregon leadership stands united in our resolve to enable every member of our community to flourish and contribute. Here, we are a community. Harassment and discrimination divide us—it is our collective responsibility to call it out and stop it."

Michael Schill
President

"Here at the University of Oregon, we are committed in our community to the values of diversity, equity, and inclusion for all. Everyone should know that they can come to UO and expect to have the opportunity to pursue their professional and educational goals in an accepting environment that is free from discrimination and harassment."
 
Patrick Phillips
Provost and Senior Vice President

"Respect is fundamental to the University of Oregon as a workplace and as a community. We each have an important role in promoting a campus culture that is welcoming, safe and respectful. Here, faculty and staff can help build and maintain a respectful community."
 
Jamie Moffitt
Vice President of Finance and Administration and
Chief Financial Officer
---
Here, we speak up to preserve a safe, inclusive workplace.
If you see something, say something. University employees are protected by federal and state laws and university policies, and have obligations as responsible employees under university policy to report information they have regarding instances of discrimination and harassment, including instances of gender discrimination, sexual harassment, sexual violence, dating and domestic violence, and stalking. Visit the Office of Investigations and Civil Rights Compliance for more information about employee reporting obligations.
It is also important that all members of the university community understand that they can make complaints of prohibited discrimination or harassment to the Office of Investigations and Civil Rights Compliance, and that the university will take steps to protect them from retaliation.