What you do:
Offer cards are accessed via the Applicant Card.
You can access the applicant card from a variety of locations including the applications bubble on the home page, the applications link on the side menu, or the "manage applications" link under the Applicants header on the side menu.
Any of these menus will allow you to access your job(s) with applicants in them.  Click on an applicant's name or a link that says "view" to access the applicant card.
What you see:
---
Open the Offer Card
To access the offer card, click on the dropdown menu "Actions" next to the applicants status in the "Applications" section of the Applicant card.
Or, click on the offer status ("no offer" in this case) next to the applicant's status.
Although an offer card can be accessed at any point, only applicants in the Prepare Contingent Offer status should have an offer card saved against them.

---
Select the Position Type
The default selection is "no" on Contract position.
Select "yes" for all positions requiring a contract.  Typically this is Faculty and interim or limited duration Officers of Administration. 
---
Complete the Offer Card
Fill out the available fields in the offer card.
You can add offer documents such as informal offer letters to your offer.  These documents will be visible to Human Resources and available on the applicant card to other users.
Approval processes on the offer card are optional, but may be required for some types of offers.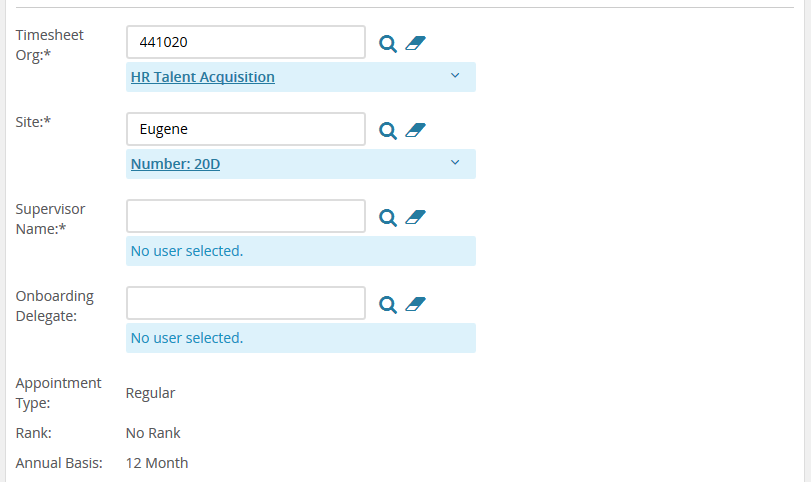 ---
Upoload Informal Offer Materials
Upload any documents supporting the acceptance of the contingent or informal offer.  Click on "Add document" and follow the on screen prompts.
These documents are not visible to the candidate and are informational only for Human Resources.  Many types of offers require supporting documentation.

---
Save the Offer Card & Issue Contingent Offer
Once you have completed the offer card, click save and close.
You can change the candidate's status in the "Review Application" screen to Contingent Offer Accepted.  Changing the applicant's status releases the background check authorization form to the candidate.
HR runs reports based on candidates in the "Contingent Offer Accepted" status to know to begin reviewing offer requests.
The supervisor (from the offer card) will be notified when the candidate accepts the official offer.