What you do:
From your dashboard, on the stacked menu in the blue bar at the top of your page.  Access "manage applications" from the drop-down menu.
What you see:
---
View Applicants
This screen allows you to see the status, submit date, name, source, and any associated flags for an applicant.
You can view applicant cards by clicking on the applicants name or on "view application".
Hovering over a flag will cause alt-text identifying the flag's purpose.  Three flags are currently in use, a green check for veteran's preference, a purple box (always appears with the green check) for disabled veteran designation, and a red flag for an applicant that self-identifies as needing immigration sponsorship.
Note, in order for applicants to appear on this screen, you must have a job selected in the "search" tab.  If no job, or the wrong job is selected, select the correct job and return to the "results" tab.


---
View Applicant Materials
You can view applicant materials by selecting to view the resume (first icon), print the resume (second icon), or view application answers (third icon).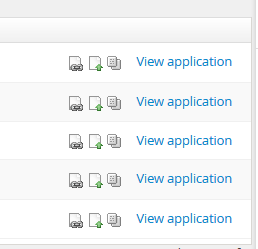 ---
View Applicant Materials
If you are the hiring manager on multiple jobs, you can search for applications for other jobs by clicking the search tab.
You can use the Lookup field to select the job you wish to search for.  You can filter applicants by status.  You can search for specific applicants or use other search criteria to narrow your search.
Please note that some search criteria is not in use in the system and will return zero results if selected.