The University of Oregon contracts with Cascade Centers, Inc. to provide a comprehensive employee assistance program for eligible employees and their dependents.  The services are at no cost to eligible members and include short-term professional counseling and assessment, child-care and elder-care resource and referral, legal and financial consultations, a listening library, 24-hour crisis counseling and an interactive website offering wellness information tailored to employee needs and interests. Cascade Centers is located off campus and offers complete confidentiality. Use the links below to learn more about the program or call Cascade directly at 1-800-433-2320. Contact Jen Mirabile, Sr. HR Programs Coordinator at mirabile@uoregon.edu or 541-346-2195, if you would like to faciltiate on-site EAP counseling or training with your department.
We highly recommend that you visit the Public Employees' Benefit Board's (PEBB) EAP webpage and register as a UO employee.  By signing-in to your own account you'll have access to many more resources for all kinds of work-life issues and challenges. 
EAP User Guide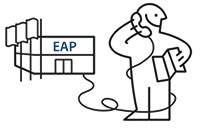 Each of us encounters problems that interfere with day to day activities. Some of these problems dramatically affect our quality of life and this is where the Employee Assistance Program (EAP) comes in, to help with concerns such as family, relationship, stress, depression, wellness, childcare and workplace issues.
When help is needed call, text, or log on to instant chat. You will be connected to a counselor who will connect you with the most appropriate resource.
Frequently Asked Questions:
Can you select your counselor? Yes. If you have a specific counselor you wish to see, you may request that person.
Want to change counselors? Call us back and explain your concern. We will attempt to schedule an appointment with another counselor who better meets your needs.
Confidentiality:
All your information is kept completely confidential. The university will not be informed that you have accessed EAP services.